Specialist Musculoskeletal Physiotherapist
As awarded by the Australian College of Physiotherapy in 2009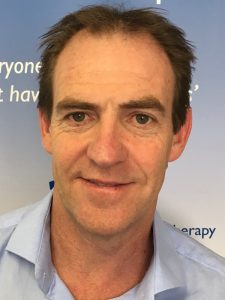 Specialist Musculoskeletal Physiotherapist*

Fellow of the Australian College of Physiotherapy (FACP)

Director of Physioworks Health Group

Co-Director of Medical Services for the Collingwood Football Club (AFL)

Senior Physiotherapist and Member of the Medical team – Collingwood Football Club (AFL)


Occupational Physiotherapist – TAC/Worksafe Preferred Provider
David Francis (FACP) is a Specialist Musculoskeletal Physiotherapist* and Director at Physioworks Health Group. David Francis specialises in sports injury management, particularly injuries and rehabilitation associated with Australian Rules Football (AFL).
David Francis heads the practice team at Physioworks Health Group Cranbourne, Physioworks Pakenham and Physioworks Berwick.
Since 1995 David Francis' professional work has been divided between Physioworks Health Group and the Collingwood Football Club (AFL), where he is a Co-Medical Director and Senior Physiotherapist.
David graduated from La Trobe University in 1990 and commenced his physiotherapy career at the Goulburn Valley Hospital. In 1993 he returned to Melbourne completing a year of full time study to achieve his post-graduate diploma in Manipulative Therapy from La Trobe University. In 1995 David established Physioworks Health Group Cranbourne and Pakenham to provide allied health services to the outer south eastern communities of Melbourne.
Following further intensive specialist study, training and rigorous examinations, David Francis was awarded the title Specialist Musculoskeletal Physiotherapist* and has been awarded a Fellowship of the Australian College of Physiotherapy (FACP).
David Francis has been a member of the AFL Physiotherapy Association since 1995 and is a past Vice President. David was appointed as physiotherapist to the Victorian State of Origin Team in 1999 and the AFL International Rules Team in 2001-2002. He continues to be an active member of the Australian Physiotherapy Association (APA), Musculoskeletal Physiotherapy Australia and the Australian College of Physiotherapists.
Together with fellow Specialist Musculoskeletal Physiotherapist* Andrew Dalwood and in conjunction with a Specialist Physiotherapy Group, David Francis has also established Physioworks Health Group Camberwell to provide an outstanding level of Specialist Musculoskeletal, Sports and General Physiotherapy services to the inner south eastern suburbs of Melbourne.
*As awarded by the Australian College of Physiotherapy in 2009.